About the contest
Ice Vision - an international artificial intelligence competition in computer vision for autonomous vehicles held in June-July, 2019 in Moscow, Russia.
The competition was designed to challenge the problems of accurate mapping of road signs and objects based on LiDAR/camera data in harsh winter conditions. The participants were required to develop software to help self-driving cars map the objects correctly in order to see through winter storm and other winter weather disasters.
It was the first time when the participants face a task of developing an intelligent system for an autonomous vehicle based on data collected during the Russian winter. This unique "winter" dataset included more than 20 thousand images.
WINNERS AND AWARDEES IN NOMINATIONS
Azat and Artem
NtechLab
1 place
PsinaDriveNow
HSE, MSU
2 place
Vizorlabs
Reshetnev University
3 place
TASK
DEVELOP SOFTWARE WHICH WILL BE ABLE TO EFFICIENTLY AND ACCURATELY DETECT AND CLASSIFY OBJECTS ON A GIVEN WINTER CITY DATASET
For this task, our partner - Skolkovo Institute of Science and Technology - develops a comprehensive, authentic dataset of traffic sign images collected on the Russian winter roads in various conditions (different weather, illumination, camera exposure, and moving speeds).
TIMELINE
Ice Vision
May 13 – June 22
QUALIFICATION ROUND
June 22
QUALIFICATION FINAL TASK
June 25
QUALIFICATION RESULTS
July 13
Opening of the hackathon
July 16
Awarding ceremony
DATASET
This dataset is licensed under CC BY 4.0.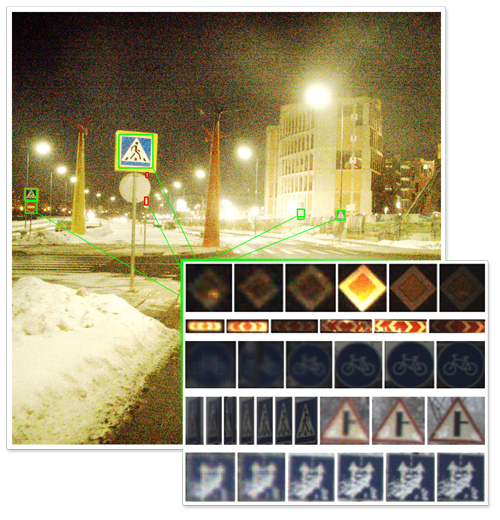 The dataset contains data from the following sensors: 3D lidar (Velodyne HDL-64E S3), two 5MP color cameras with global shutter (DFK 33UX250), two differential GNSS receivers (Emlid Reach), one non-differential GNSS receiver (Garmin 18x LVC), Inertial Measurement Units (InertiaCube3).
A unique feature of the dataset is its focus on difficult weather conditions, including snow, ice, low light, oncoming sunlight, dirty roads and road signs. The main focus is on the recognition of road signs according to the traffic rules of the Russian Federation in the form of bounding rectangles.
The dataset was assembled by the team of developers of the laboratory of intelligent space robotics at the Skolkovo Institute of Science and Technology (Skoltech).
VENUE
The Ice Vision final round on July 13-16, 2019 consisted of a 2-day hackathon and educational program, and took part in Moscow, Russia.
26 international teams programmed at the NUST MISIS historic Сommune House, which is a well-known example of constructivist architecture from the Soviet 1930s.
Also during the hackathon, lectures and master classes were held at the sites of the Commune House and the Skolkovo Institute of Science and Technology.
Ice Vision competition is designed as a satellite of a major Up Great technology contest "Winter City" with the aim to attract developers and scientific community to creation of computer vision solutions for autonomous driving in winter conditions.
Up Great is a series of contests initiated in Russia as part of the National Technology Initiative to find breakthrough solutions to global technological challenges.
Co-organizer of Ice Vision is NUST MISIS - one of the leading universities in a number of areas, including material sciences, metallurgy and mining, as well as biomaterials, nano- and IT-technologies. In 2017 the university successfully organized an artificial intelligence and computer vision international hackathon - VisionHack.
Partners
Strategic partner

Special partners

Technology partner

Special prize partner

Special prize partner

Cloud Partner

Contest platform partner

"Boost your mood" sponsor
Information partners




Contacts
Do you have a question or know how to make Ice Vision challenge better? Then email us at:
icevision@upgreat.one
BECOME A PARTNER
If you are interested in supporting the Ice Vision challenge,
please contact us at icevision@upgreat.one.
As a partner, you will have an opportunity to gain additional visibility, lead a workshop on a relevant topic, and may be even recruit directly from the most talented engineering participants.